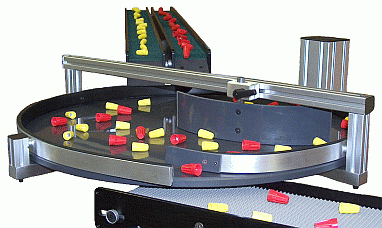 (Volcano, Calif. — Feb. 25, 2009) Whipple Enterprises today announced the "stationary-fence" transfer station option for its Rotary Table Accumulator (RTA) product line, which adapts an RTA into an unmanned surge table for temporary accumulation and automated product discharge back into the flow of production.
In addition to serving as a product accumulator during unattended operation, a user's RTA unit when equipped with the stationary fence option can double as a 90-degree corner unit between conveyor stations. The surge table capability reduces the need for attended operation in production lines that intermittently stop and start.
In addition to significant savings in the cost of labor through unmanned operations, the rotary accumulation table helps reduce piece-part damage or rework costs by sequencing production flow. Whether the RTA is used for accumulation or transfer applications, the RTA turntable can rotate continuously or in intervals. When equipped with an indexing timer, the user can program separation intervals to create a buffer zone between delicate precision parts that transfer through the unit.
The stationary-fence option consists of a non-rotating guide assembly that is attached beneath the turntable itself. The fence remains stationary above the disc perimeter. It is easily adjusted, should the user require a different configuration for the next work shift, such as from daytime to overnight operation.
For sales information, please contact Jeff Melville, Sales Manager, by phone at 800-586-4585 or by email at [email protected].
For marketing and media information, please contact Roberta Crowell, Marketing and Sales Support Manager, by phone at 209-296-5128 or by email at [email protected].