Mini-Mover Conveyors offers production availability of the Razor-Link™ option for its LP (Low-Profile) Series of Mini-Mover conveyors. Razor-Link™ allows quick and easy modular setup for close-proximity applications, such as multi-station transition, small-parts transfer and 90-degree turns.
Razor-Link™ uses a true "roller nose" design that uses two precision-machined aluminum pulleys to provide smooth, bearing assisted belt travel. This design boosts energy efficiency, lowers belt resistance and provides structural rigidity. The Razor-Link™ design affords longer component life and operating efficiency vs. the "knife-nose" options currently on the market that exert tremendous friction via belt travel over a rigid end bar. At the user's option, Razor-Link™ can be mounted on one or both conveyor ends and can be configured for push or pull belt-drive directions.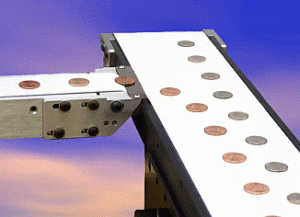 Whether running modules straight end-to-end or for 90-degree turns, the LP Series conveyor with the Razor Link option adapts perfectly to compact, ever-changing floor plans.